Hands-on Lab (HOL) staff are considered a "volunteer army" of about 200  technical rock stars and are responsible for building, supporting and maintaining the lab content for 87 lab topics covering all VMware products. I've been a member of the Hands-On Lab staff for 7 years running (going back to 2012), as a Captain and Principal. For the previous few years, women have made up about 10% of this technical army, which significantly under represents the percentage of women at VMware. Anita Kapadia, the HOL Program Manager, and I decided to lead an initiative to recruit more women volunteers into the HOL program, and also find ways to help retain them.
Anita and I organized a working team of past and present HOL women staff, including Mandy Botsko-Wilson (fellow CTO Ambassador and the other half of #TeamKandy), Leanne Jones, Rebecca Yo, Tina Walsworth, Parul Garg, and Melanie Spencer. We surveyed all HOL women staff from the previous 6 years to better understand what they liked, didn't like, and why they discontinued participation (if they did). We also researched how to find more technical women to recruit and then met with teams to share information about what the HOL is and the benefits of participation. Through this process, we learned that we don't have nearly enough technical women in the field to meet the target we'd set for staffing the Hands-on Labs with women for 2018. We did, however, manage to find many willing participates in various business units!
Once we'd signed up our 2018 women volunteers, we wanted to ensure all of these new folks had the support needed to make them feel welcome and prepared. All new recruits were assigned a woman mentor who was an HOL veteran. Mentors held calls and set up dedicated Slack channels in advance of VMworld to share advice and answer questions. We also met in person once we were all on-site in Las Vegas to introduce the mentors in person so that all the new women had people they could reach out to during their shifts with any questions or concerns. The feedback on this little extra bit of TLC has been quite positive so far.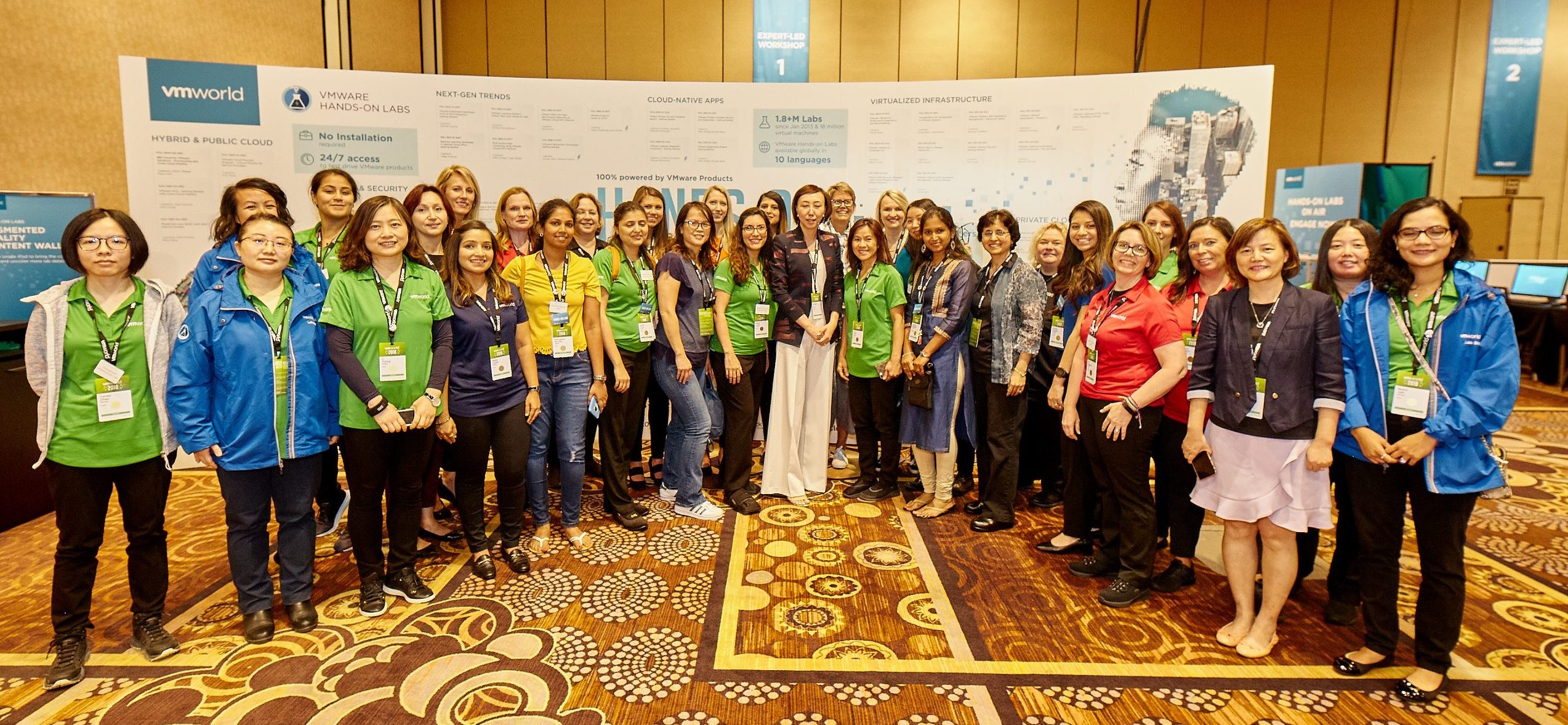 Last, but most certainly not least, we arranged a visit from Yanbing Li, SVP and General Manager of our Storage and Availability Business Unit, at the end of our opening day in Las Vegas. She shared her great insight into career and advancement and answered many questions from all the HOL women staffers. Betsy Sutter, our SVP and Chief People Officer, was also on hand to hear more about our efforts and challenges related to this initiative. All in all, it was considered a great success so far, but we definitely have more work to do for next year!
Click here to watch an interview with VMworld Roving Reporter, Amy Lewis!